Understanding the SCUBA Marketing Comment System
Think I'm full of it? Want to let everyone know you think I'm full of it? Or maybe you actually like what I said about SCUBA Marketing, have an interesting story to share or just want to see your name on the interwebz, all you need to do is comment!
How to Use Comments
For starters, please take a moment to read the comment policy. After you have an understanding of my high-privacy/low-standards  for comments, pick your favorite article, read it all the way to the end, then keep scrolling down. You should see something that looks like this: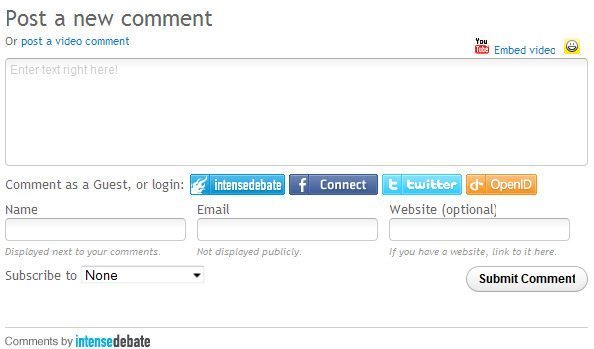 It may seem a little daunting or that there are a ton of options, but they actually exist to make it easier for you to share your thoughts.  Right below the "Post a new comment" title, you have a few options before you even hit the comment box. One is to post a video comment which will use your webcam to allow you to share your thoughts. Like everything else, no registration is required.  If you look to the right, you can also embed a YouTube video (hopefully it pertains to the topic at hand) and finally you can insert a variety of smiley faces.
Next is the comment box. This would be where you would type your thoughts out. Just below that, you can comment as a guest or use a variety of options to login. Logging in just makes your life easier, but again, isn't required. You can use Intense Debate (the system that powers the comments, but probably not one you may have unless you're a blogger as well), via Facebook, Twitter or OpenID. Options galore.
If you leave it on Guest, just below that it asks for your name, email address and an optional website. If you login, you don't need to enter any of that information.
Finally, below that you can choose to subscribe to the comments, just in case you want to see what someone else has to say about what you shared.
In the bottom right is the Submit Comment button – once you're done typing your text or sharing your video and have verified that you're a human one way or another, click that button to share your comment.  That's it!
If you want to test any of these options out, feel free below by way of an introduction to the other members of the community!