I had a brief chat earlier today on Twitter with @AdventureDiveSA and he asked:
[blackbirdpie url="http://twitter.com/#!/AdventureDiveSA/status/63636656867123202″]
If you've been reading, you know I spend at least an hour and a half to two hours per day reading RSS feeds.
What is Nick Talking About Now?
In case you're new around here or have forgotten what RSS is, here's an old classic from the archives. The link at the end of that article is dead because I'm about to give you my hot new updated list at the end of this article, so hang on a second.
RSS stands for Really Simple Syndication. Itt's a way to automatically receive the content from your favorite web sites without actually having to visit them.
But seriously, go check out the other article, it even has a fun video.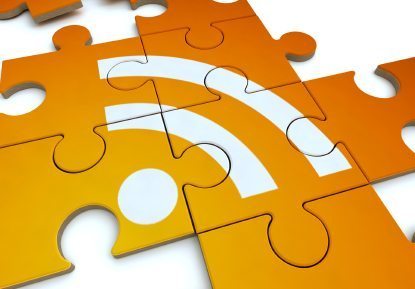 How YOU Can Use RSS
RSS is a two-way tool. You can either use it to consume information or distribute information. Both are important to being a well-informed SCUBA professional who understands modern marketing tools.
Inbound Information
Consuming information with RSS is the easy, but slightly limited option. You can subscribe to RSS feeds from a variety of sources (the link to download my starter list is at the end of this article), but I also recommend subscribing to other topic areas.
I worked in the cell phone industry and have been immersed in technology all my life, so I follow a lot of tech sites. I pay attention to politics, so I have quite a few subscriptions in that arena as well.
Pick topics that interest you because you can draw upon those interests to make you stand out to your customers.
Outbound Information
Think of RSS as a plain text document. For those of you who can use Microsoft Word in your sleep, a plain text document may come across as hideous.
You're wrong! It's not ugly, it has vast potential! Just like the information you create! Since you've already setup your much-needed SCUBA blog (right?), you already have an RSS feed to do with what you will!
I don't suggest fully automating your marketing, but some degree of automation is okay (more on this soon) and your RSS feed allows you to distribute your content quickly and easily across the most valuable online tools such as Twitter, Facebook and your email newsletter.
Using a tool like Hootsuite, you can distribute your RSS feed to Facebook (Profiles and Pages), Twitter, LinkedIn and others.
Using MailChimp, you can create an automatic email newsletter that goes out every day, week or month to your subscribers with your content.
Or, for the RSS savvy customers you may have, you can stay in front of them regularly via your RSS feed. Even I was amazed that we reached over 200 RSS subscribers within our first week, you too may be surprised at how many of your potential customers are utilizing this tool.
The Best News Ever
If you have a site built on blogging software, you already have an RSS feed, there's really nothing else you need to do.
If your site isn't built on blogging software, why not?
Here's my starter list of RSS feeds for other SCUBA-related sites. Make sure you read the article about how to use it with Google Reader. This is only a starting point to see how others are using blogs and RSS within the SCUBA industry.
The file: [download id="1″ format="1″] (you may need to right click, then save the file)
Is your feed not on my list? Let me know in the comments below!