Mares Icon HD the iPhone of Dive Computers?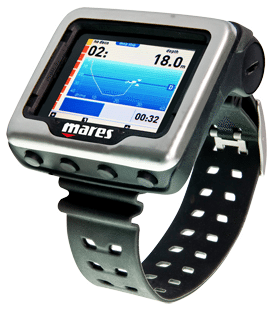 Two of the most compelling features of the iPhone for me are the ease of use and expandability through "apps". There are plenty of other great features that make it my favorite cell phone, but those are my two sticking points preventing me from moving to any other mobile platform. It looks like Mares has taken a cue with their Icon HD dive computer.
Ease of Use
I haven't had a chance to play with one of these in person (yet), but they have a great site available to walk you through the Mares Icon HD computer. It looks incredibly easy to use with only four buttons that have similar functions regardless of the screen you're on. Even when the function changes, they have employed easy to understand icons to represent their actions.
I think having a site like the one they've setup builds a degree of excitement about their product, plus is something of an online interactive manual. I'm not a big fan of all-Flash sites, but I think for this purpose, it works well.
Apps
Today, Mares and Art To Media announced a partnership to bring underwater topographical maps to the Icon HD computer. Although we don't have reliable underwater GPS to pinpoint yourself mid-dive on the map, I think this is an excellent idea. I envision SCUBA diving centers having maps of their local dive sites that they can download to a customers computer for them, providing an excellent value-added-service while giving the diver valuable information.
I have an email out to Art To Media to find out if there is a process to have maps made for your local dive sites.
According to the Mares web site, the Icon HD has an air integration upgrade available this spring along with a "reprogrammable processor". Although their description is vague, based on the new maps, air integration coming later and a PC interface, this could pave the way for more "apps".
How about a fish ID app? Or instructor slates? Or games for a deco stop/surface interval?
My Favorite Feature
The rechargeable battery.
I love my Suunto Stingers and D9, but I hate sending them in and spending a fair chunk of change to have my battery changed. Although Mares doesn't specify the expected battery life (both between charges and number of charge cycles), if compared to a typical cell phone or laptop battery, it should easily last 2+ years.
Do you think we'll see more iPhone-like functionality built into our dive computers in the next couple of years?