SCUBA Email Marketing Gone Wrong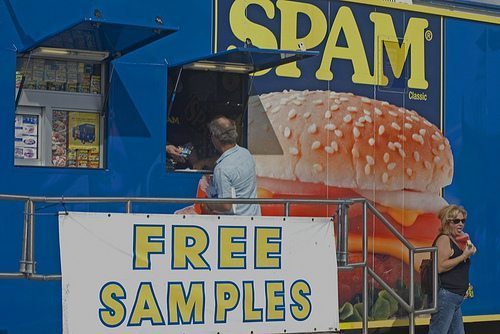 I love email marketing. Not spam, mind you, but real, effective, useful, opt-in email marketing. It regularly has the highest return on investment (ROI) of any form of advertising according to the Direct Marketing Association and with tools like MailChimp we can get started for little to no cost.
I currently offer an email newsletter that is just a digest of the posts on the site for those who don't like RSS. If you haven't subscribed, I suggest you do so because there is going to be an interesting tidbit of information that will go out only to email subscribers. Enough of that though, on to business.
In the last week, I received two emails from two different people. I am happy to receive them, I am glad I was able to see their message, so I don't want either party to simply respond to my constructive criticism by removing me from their list. I'm just going to use them as an example for the rest of my readers (the original senders can consider it a free consultation).
Cline's Diving Industry 4th Q 2010 Survey Results
In my typical PADI way, let's start with the good aspects of this email.
First, it is filled with a variety of great, useful information. I strongly encourage all of you to subscribe so you can see it for yourself.
Second, they provide all of the necessary information to comply with the federal CAN SPAM act, namely unsubscribe information and a physical address and phone number for the business sending the email.
Unfortunately, the email rendered terribly in Outlook Web Access, Outlook 2007, Apple Mail, Gmail and on both iPhone and iPad. I could barely make head's or tail's of their tables. The web based version of their newsletter looked great, but they provided only one link to access it, buried in the newsletter. I recommend a link at the very top offering the web based version, especially for people checking their email via smartphones.
Digging through the code of the email, it appears as though they have no real tracking information other than possibly the link to the web based version. I couldn't find a tracking image to see if I opened it. Other links had no tracking code. For those of us who like our privacy, this is a good thing, but for those of us who want to market our business, tracking is essential. The tool I use, MailChimp, has incredible tracking and is very inexpensive, if not free, so why not use something like that? Using MailChimp would also fix your cross-program compatibility issues. Just a suggestion.
My other recommendation is placing contact information at the top, not the very bottom. If your customers like what they read in the first paragraph and want to do business with you, why make them dig for ways to reach you?
DEMA Member Alert: Vote Werner Kurn from Ocean Enterprises for the DEMA Board
This email looks nice and is very professional, complete with contact information right at the top.
I was so impressed with this email (even though the qualifications of Werner Kurn for the DEMA Board appeared to focus on the past and not on what he'd do to make it better in the future), I wanted to check out Werner's web site. I clicked the header (which may include a tracking link, bravo!) and got this:
Oops. Being the resourceful person I am, I found the web site.
Just to test links, I clicked on the link to update my profile:
I had to hit page down 4+ times to see this whole thing. While I'm a huge advocate of collecting information, I'd be curious to learn how many people actually fill out this entire thing. And what's up with the three broken images at the top? Honestly, the biggest pain in setting up email marketing systems is testing all of your various forms. But it's necessary because it adds a sense of professionalism.
To give Werner Kern from Ocean Enterprises credit, he's the only candidate I've heard from, so he'd get my vote if I were a member.
My Pet Peeve
Let me make it abundantly clear, what I'm about to complain about is not illegal. It's something that bothers me and informal polling shows it bothers many other email users.
I never signed up to be on either list.
I hate it when people find my email address and just add me to their list. A common misconception of the Federal CAN SPAM Act (frequently referred to as the "You Can Spam Act") is that unsolicited emails are illegal. There are huge gray areas in the act, but best I can tell is that if they offer an unsubscribe option that actually works within 10 days, no laws are broken. There are a few more requirements than that, but that seems to be the big sticking point that gets people in trouble. Both emails had that, so no laws are broken.
But under the section of the act pertaining to sending behavior compliance, it specifically states "A message cannot be sent to a harvested email address." I don't remember giving my email to either of these people (maybe DEMA just hands my email out) so there could be some questions there.
My suggestion to everyone getting involved in email marketing is to explicitly tell people what you're going to do with their email address when you collect it. Don't just copy from student record files into your email list unless you told them you would do so. If you do get an email from a source like DEMA, I would suggest your first email be an introductory email explaining how you got the email and what you would like to send the recipient periodically. Email service providers like MailChimp, Constant Contact and other reputable companies strictly prohibit the use of improperly obtained email addresses, perhaps the reason why both of these parties are using self-hosted solutions.
Do you like getting email newsletters you don't remember signing up for?
Photo via allspice1