DEMA Show 2010 Las Vegas Day 1
Ah, the first full day in lovely Las Vegas, Nevada. For those of you who don't know, I'm not a big fan of this city. I don't gamble, I haven't been drinking lately (except for very special occasions, sorry, this isn't it) and I'm fresh out of sin these days. The only reason what happens in Vegas stays in Vegas for me is because it's so boring no one wants to hear it (except this post, wise guy, you've been waiting a whole year for this doozy).
That being said, keep that in mind with my recap 🙂
DEMA and me
Let's start with how welcome DEMA makes those of us who want to see marketing in this industry succeed: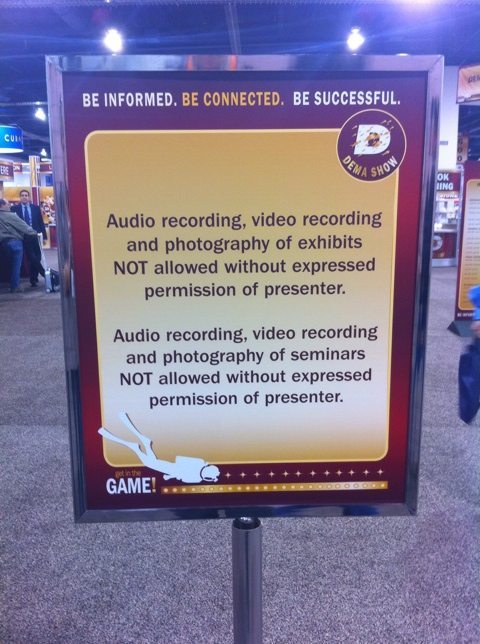 I don't remember this hostility in Orlando last year, but maybe I have selective memory. My mom claims I do. Well that's okay I guess, but these signs are EVERYWHERE. They really want us to know that the topics discussed are not to leave this convention center. Luckily, they left out transcriptions and perspectives, so I'm safe. Now let me show you some of the hot new gear…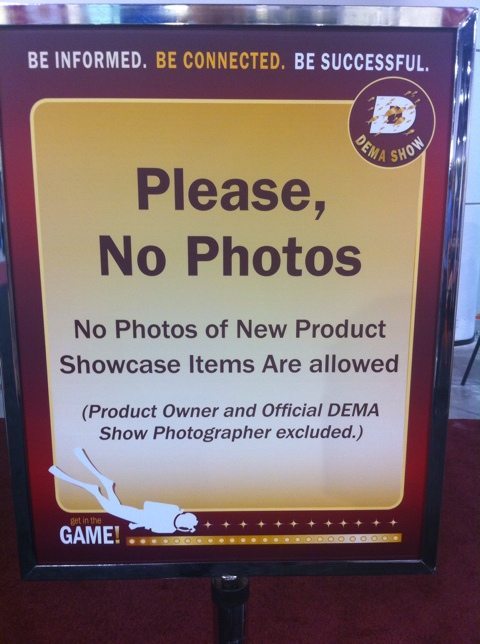 Oh. Oops. I guess I can't build excitement around a new product in order to help manufacturers get the word out and hopefully sell more. I was responding to a text message before I took this picture (it's of the sign outside the showcase, not the showcase itself so I hope I'm safe) and was rushed by two security guards. I politely explained that the iPhone is a phone and they backed off a little.
Since I would be pleasantly surprised if someone from DEMA came and commented here explaining this, perhaps one of the manufacturers that subscribes (I can tell from your email addresses) can explain why they don't want their product shared with the world. If I get time, I'll try to ask someone tomorrow.
Okay, we all care about the environment and so does DEMA!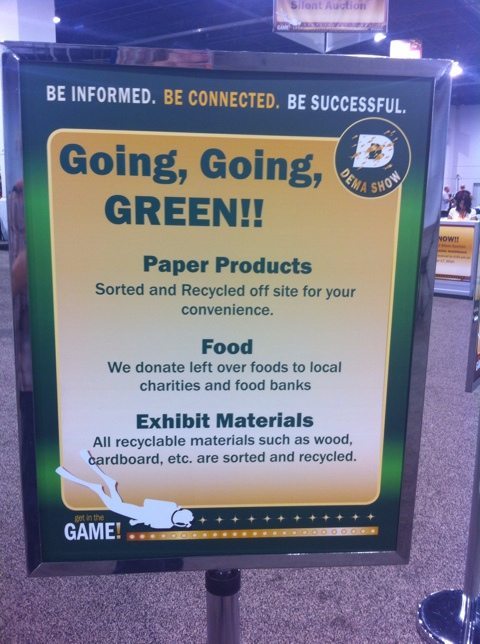 This is definitely good, although coming from years of semi-neurotic recycling habits, just dumping it all into one bin seems odd. Here's the problem: when I checked in and got my pass, I was handed a bag of stuff (some refer to it as schwag). Except it wasn't schwag, it was print marketing. I immediately went through it and kept one item: the map. The program is online and I have an iPhone and iPad. The other stuff was stuff that doesn't pertain to me and I doubt I'm alone. And every seminar I attended had large water jugs (yay!), but styrofoam cups for attendees and small water bottles for presenters. Sorry, but that's not very eco friendly. Add in that the host hotel (the Hilton) offers shark fin soup on one of their restaurant menus and I'm not impressed by the environmental efforts of the show.
Nick, did you like anything?
Thank you for asking, yes, yes I did! I LOVE the excitement at these shows! People come to learn, sometimes to save their business other times to improve their business and I love people learning. Heck, according to a PADI survey, 86% of divers describe diving as educational and 56% of divers seek additional training because they like to learn new things, so it's my kind of people!
I was surprised to learn (based on the same PADI survey) that 7% of instructors claim they don't own a mask, that the US certifies the most people AND sends the most abroad to get certified.
I was also surprised to learn that Twitter doesn't generate business, Facebook Pages should be one-way communication and that participating in a forum will generate more business than having your own blog (web site). I don't agree with any of those points, in case you were wondering.
This is my personal take on the day, but was echoed by quite a few other professionals who have been in this industry for long enough to have a valid opinion. Negative? No. Real? Yes. Could things be better? Definitely. Could they be worse? Oh yeah. So I'd give it a C+ so far.
How about the products?!
I'll be honest, I attended five seminars and still had time to walk the entire floor. It was brisk and I'll be going slower in the coming days, but the only thing that stood out so far was the LACK of travel-friendly gear (at least advertised as such, kudos to Aqualung for being the only one I saw) and the promise of a sub-$200 iPhone housing coming next year. To be clear, I'm not a buyer, so I'm looking for things that personally excite me, not necessarily high margin items.
The Agencies
Another point of shock here: PADI is offering 46 seminars, SDI/TDI/ERDI (my numbers may be off because I had a hard time identifying all of your letters on the big board, pick an acronym) has 31, SSI has 12 and NAUI zero. What's up NAUI?
Another Take
Remember, I'm trying to help PUSH this industry forward in terms of marketing, so I'm bound to be a little critical. For a far less biased view, check out the DEMA day 1 summary from SCUBAGadget.
Discuss.