Buttons Buttons Everywhere
This last week has further solidified in my mind why a SCUBA store owner or manager should hire out their web development.
From playing around with another site in development, we played with the ShareThis plugin (again). It used to be pretty slow back in the day, but it's faster, more useful and more attractive now. However, to get it to float alongside the article, we had to change WordPress plugins to allow for custom buttons. So that took some time and effort. Now you see some sharing options above the articles, beside the articles and below the articles. Judging by early analytics, all three places are being clicked, so they're staying for now.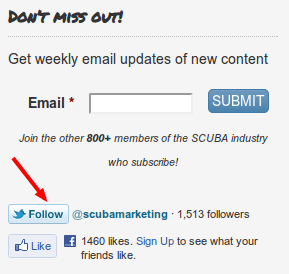 Then Twitter launched their new Follow button, which allows users to follow an account with one click. It's new, it's social media, it allows people to follow even easier, so it had to be added. Check it out over in the sidebar above the quick and easy Facebook Like button. Click them both 🙂
Then we read some case studies on the benefit of having an intro page that explains what your site is all about instead of just diving into the content. So we updated the homepage.
Then we saw a new top of page bar that allows for email subscriptions, so we had to test that out. It's already had several subscribers, so it's staying. You get our email newsletter, right?
Then Google came out with their new +1 button. It's some type of response to the Facebook Like button that's now everywhere. Of course ShareThis doesn't have it yet, so getting it to integrate as best as possible has been a real treat 😉 Here's the explanatory video for +1:
[youtube]http://www.youtube.com/watch?v=OAyUNI3_V2c[/youtube]
Needless to say, we're now experts at adding all of these tools, so if you need help adding them to your site, feel free to contact us.
Look okay to you?