It's 2 AM, Do You Know Where Your SCUBA Customers Are?
According to a study by Forrester Consulting, "Only 32 percent of marketers know how customers behave across channels and only 37 percent know what channels their customers prefer to use." Some other interesting tidbits from the study:
92% of online consumers have opted-in for email marketing, making it the most popular channel for permission-based promotional messages across every age group
Do you have a SCUBA email marketing program?
70% of consumers who visit Facebook at least once a month are a "fan" of at least one company/brand
Have you setup a SCUBA Facebook page for your SCUBA diving business?
They also say they have never given a company permission to send them information through a social network
Marketers should use social media to listen and engage with customers, not to market to them
The typical SCUBA diver doesn't want to be spammed, they want to contact you for their SCUBA diving needs
"The bottom line is that in an industry where new digital communications make it easier to send a variety of messages, it's imperative that marketers not only send the right message, to the right person, at the right time, but that they use the right channel as well," said Morgan Stewart, ExactTarget's director of research and strategy.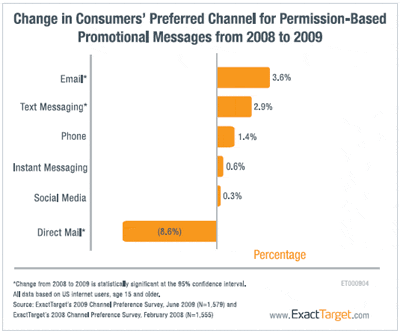 SCUBA Diving and Marketing Lessons
I believe it was at a PADI member forum when I saw a training video demonstrating an in-pool SCUBA diving accident. One of the SCUBA students was obviously (to us in class) flustered and afraid of going underwater. Due to the flood of data the SCUBA instructor had to take in (the other students, weather, gear issues, etc), the nervous SCUBA diver wasn't noticed, and there was a problem.
Similarly, if you let all of the marketing choices and issues in life come at you without paying attention to the people you are trying to serve, you could be working very inefficiently. We, as SCUBA marketing professionals, need to pay better attention to our SCUBA diving customers to provide excellent customer service to build our SCUBA business and retain customers.
Email Marketing for SCUBA Diving
I'm going to discuss both the technical aspects of email marketing as well as strategy, but for now I just want to point you to my favorite tool for email marketing. They have a free option that allows you to have up to 500 people on your SCUBA email list, plenty for those of you just starting out.  The company is MailChimp and they offer a huge variety of options in their email campaigns. So I encourage you to at least go take a look and register for a free account, the lessons will be coming soon.
If you want to see an example, feel free to sign up for my weekly RSS feed-based emails. They are completely automated, which is very handy in our busy lives.
How are you using email marketing for your SCUBA diving business?