A Starter List of SCUBA Blogs
RSS feeds and Google Reader are the way I'm able to keep up with over 500 different web sites every single day. In a nutshell, RSS removes the formatting of a web site (think the navigation above, the sidebar to the right and the footer at the bottom) and just gives you the fresh content. If you aren't familiar with RSS or Google Reader, please take a moment to watch this video:
Now that you have an understanding of RSS and Google Reader, it's time to subscribe to some SCUBA blogs!
I had asked for your favorite SCUBA blogs a while back and the time has come for you to download the OPML file I've created. The great thing about this file is you can import it directly into Google Reader and you'll automatically be subscribed to all the sites in the list.
How to Import the SCUBA Blogs OPML File
First, go into Google Reader and look in the top right corner. It should look like this:

Click on "Settings". You should now see this near the top of your screen:

Click on "Import/Export". That should take you to a screen similar to this: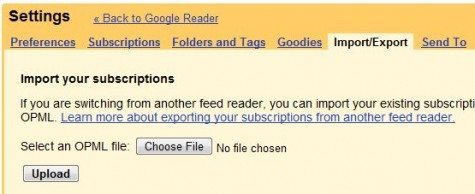 Choose the file and upload! That's it!
The File
Here it is (right click and Save As): [download id="1″ format="2″]